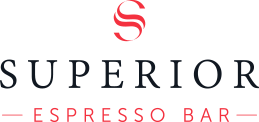 Our hugely popular Espresso Bar offers a delicious range of some of our most popular homemade delights.
Since opening in late 2016, our espresso bar has proved to be an immensely successful addition to our catering business – so much so that planning is already underway to add more seating areas and extend our wonderful menu (just watch this space!). Staffed by our highly trained team of superior baristas, our hugely popular Espresso Bar is open to the public from … to …, and offers a delicious range of some of Superior Catering's most popular homemade delights, including freshly prepared sandwiches, delicious, flaky sausage rolls, as well as our delectable range of uniquely baked 'posh pies'. Our baristas have been artfully trained to produce glorious freshly-ground coffees, all of which are available to drink in or take away throughout the day.
Our daily chef's specials menu is updated every day to showcase our scrumptious offerings of freshly made goods.  In the mornings, our bar is proud to serve a delightful array of breakfast items, including continental items such as freshly baked pastries and freshly prepared fruit, and our mouth-watering take on the great 'Full English Breakfast' which comes loaded with rashes of gloriously smoked bacon, well-stuffed succulent pork sausages, your choice of eggs, juicy beans, tasty grilled tomatoes and staple mushrooms, our high-flying fry-up is guaranteed to give you the very best start to your day.
In the summer months, our Bar also becomes the venue for our hugely popular outdoor barbecue. Hosted on the purpose-built patio by our sensational team of highly experienced chefs and serving staff, our barbecue offers a wide-range of barbecue favourites, including burgers, hot-dogs, homemade chips and salads.
WHERE TO FIND US
Pitt Street,
Widnes,
WA8 0TG
OPENING HOURS
Monday – 6am–3pm
Tuesday – 6am–3pm
Wednesday – 6am–3pm
Thursday – 6am–3pm
Friday – 6am–3pm
Saturday – Closed
Sunday – Closed
REQUEST OUR MENUS
Click the button below and fill out our contact form to request our latest brochure. Please select if you are interested in a daily call (on the go), event catering or corporate catering.
If you have any questions or would like more information please do not hesitate to get in touch.